Mindenkinek vannak kedvenc ruhái/kiegészítői, amiket a legeslegjobban szeret viselni. Már nagyon sokszor kérdeztétek tőlem a Tumblr-emen, hogy nekem mely darabok a szívem csücskei. Ebben a bejegyzésben megmutatom. :) ♥
Everyone has her/his favourite clothes and accessories what she/he really likes to wear. You asked me a lot in my Tumblr that what were my favs? Now I show you.♥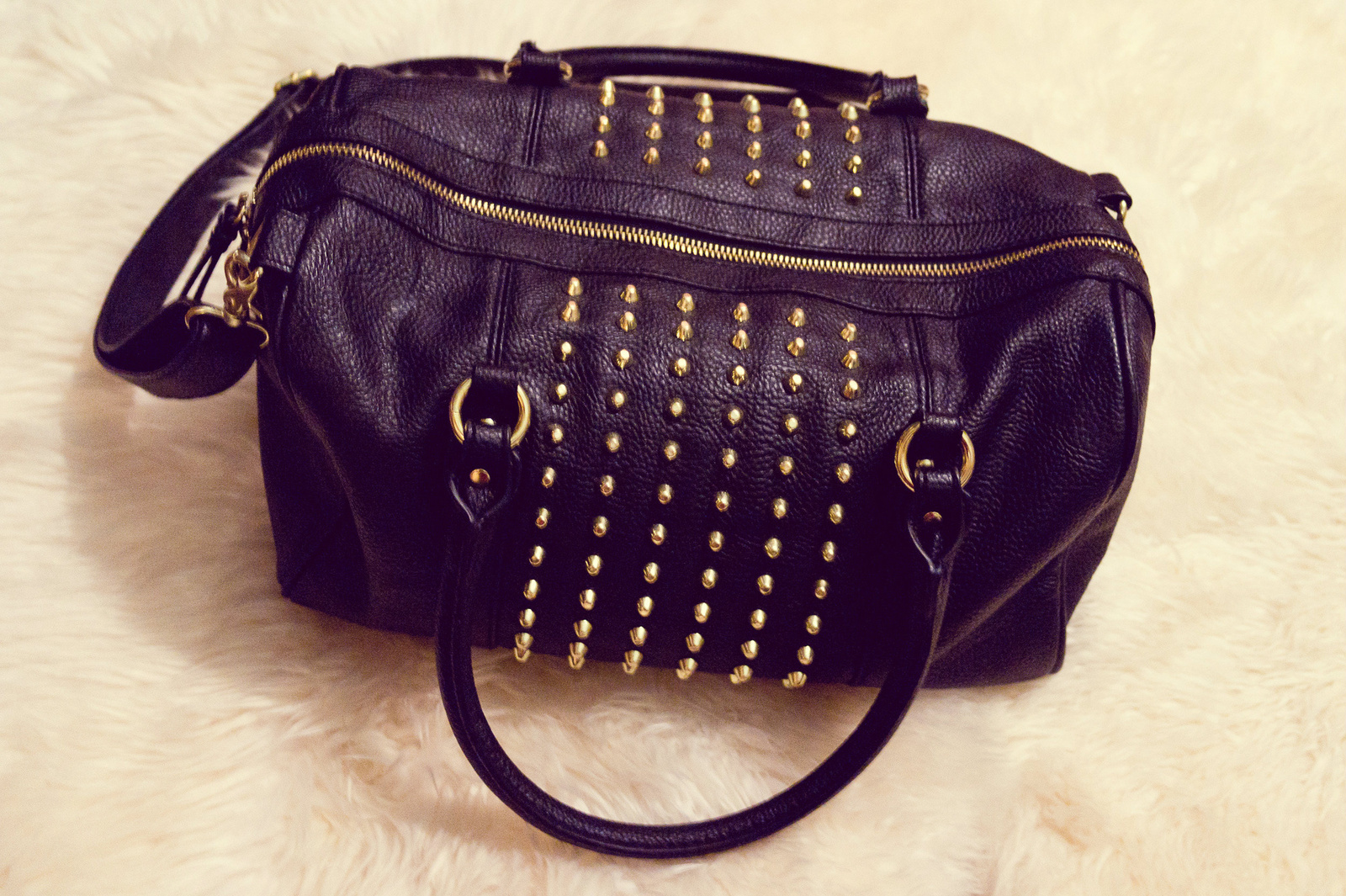 A kedvenc táskám ez a szegecses H&M-es bowling táska.♥ A 'megszerzése' nem volt könnyű, elég sokáig gyűjtögettem rá, majd a boltban kijelentették, hogy elfogyott, már csak fehér-ezüst van belőle. Nekem az kevésbé tetszett, ezért végül rábeszéltem magam egy másik feketére, szegecsek nélkül. Már éppen mentem kifelé a boltból, amikor megpillantottam az egyik polcon még 2 ilyen szegecses táskát. Azzal a lendülettel fordultam vissza, levettem a polcról, és mentem vissza a kasszához, hogy kicseréljem a sima fekete táskát erre a szegecsesre. Szerencsére mivel megvolt a blokk, meg egyébként is kb 5 perccel azelőtt vettem a másikat, simán kicserélték nekem. :) Azóta is boldogan élünk: én és a táskám. :D ♥
My favourite bag is this studded bowling bag from H&M. It was hard to 'catch it'. In the store they said it was out of stock, so I bought a simple black one. But when I was leaving the shop I saw this bag in the shelf, so I went back and replaced the simple one to this.
Sice that we've been living happily together. :D ♥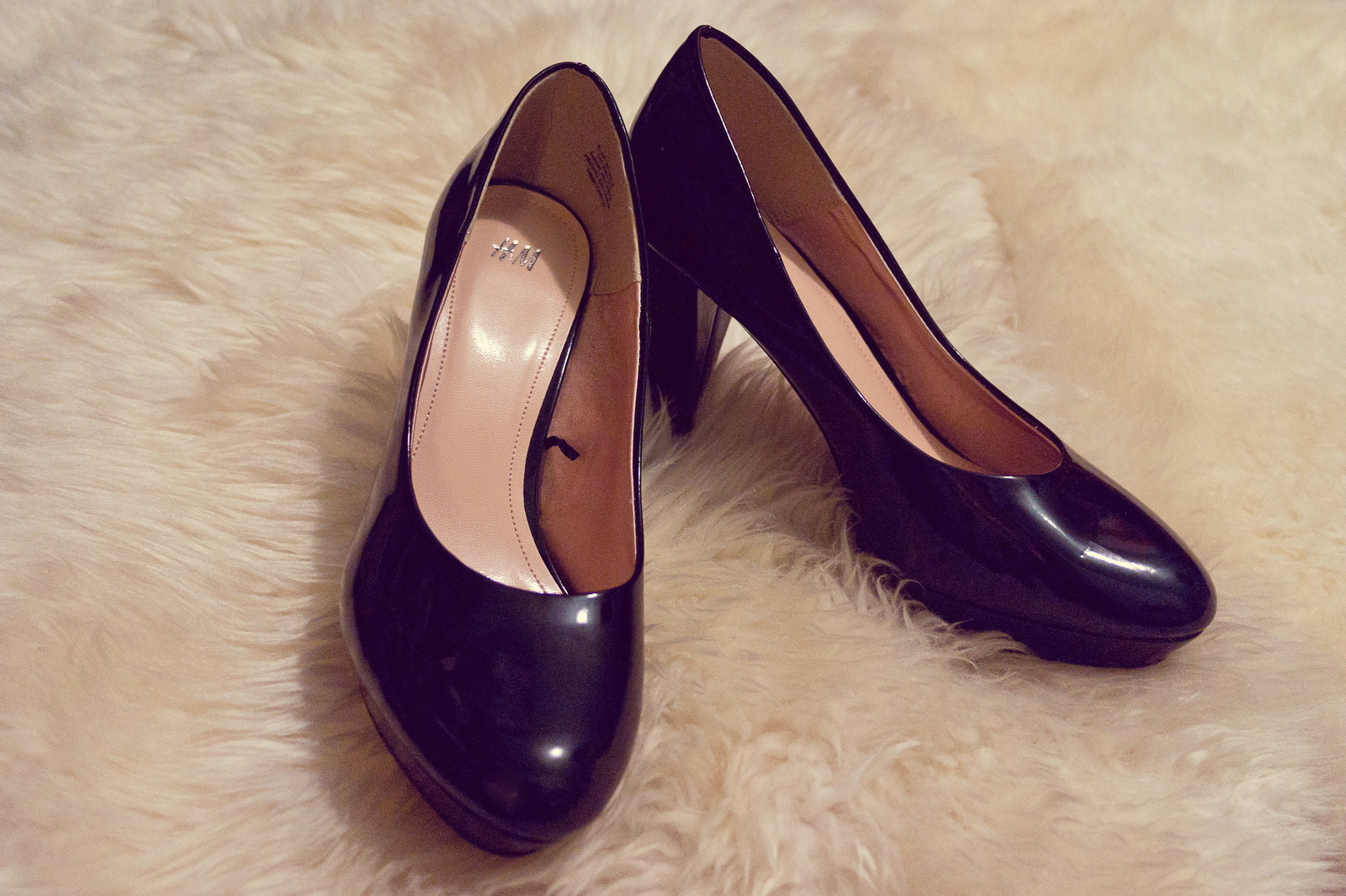 Nagyon-nagyon szeretem ezt a magassarkú cipőt (H&M).♥ Karácsonyra kaptam, a leárazáson 5000.- volt, persze alap, hogy utána kb 1-2 héttel leértékelték 3000-re… Gyönyörű szép, és a sarka sem túl vékony, ami miatt nem olyan nehéz benne járni.
I really-really love these high heels (H&M).♥ I got it for Christmas, we bought it for 5000.- (~22$) at sales and 1-2 weeks later it was offered for only 3000.- (~13$)… It's so beautiful and it's great that the heels are not so thin.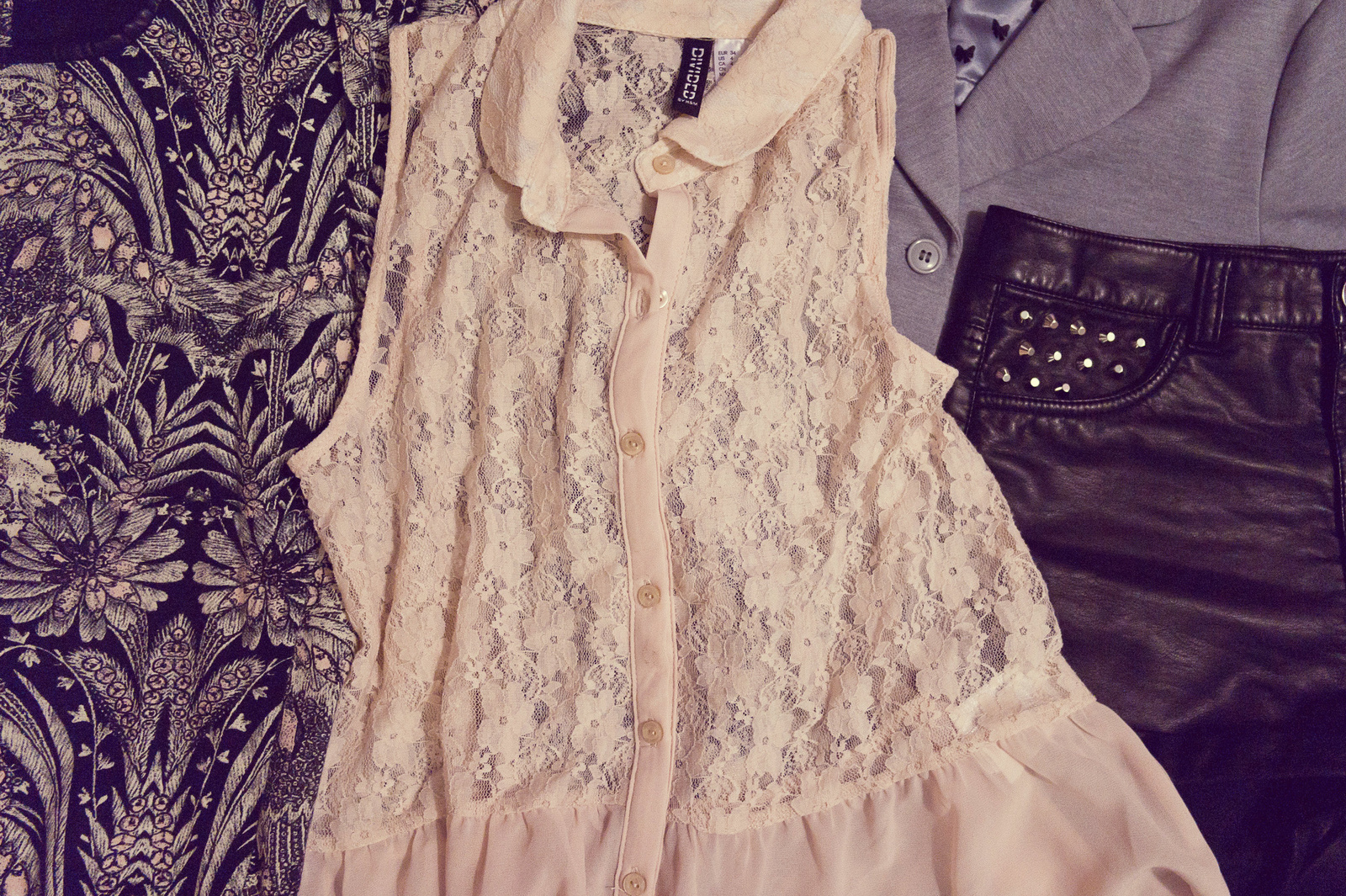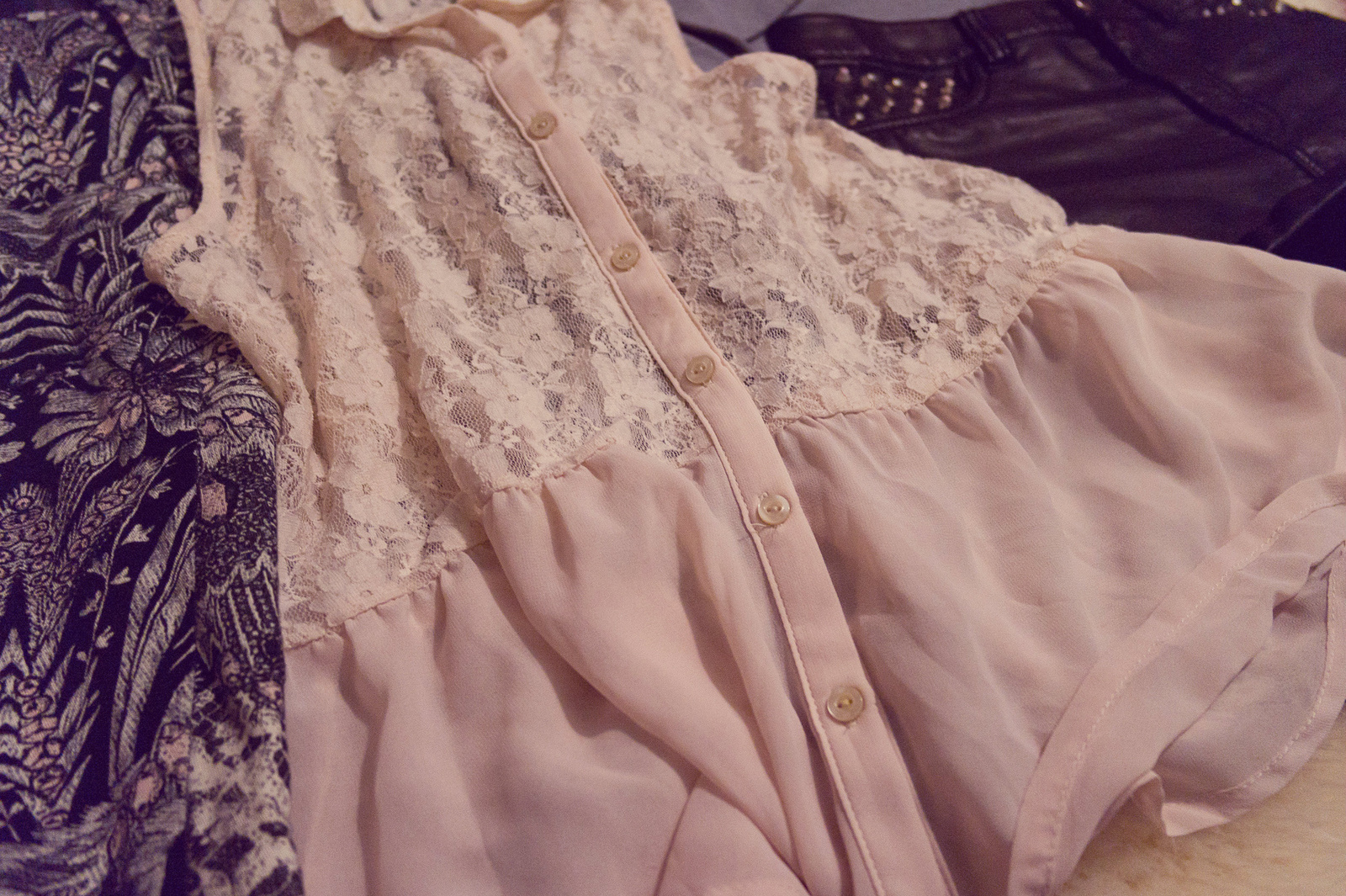 Összeszedtem a legeslegjobban szeretett ruháimat:
Púderrózsaszín csipkés blúz (H&M) – a csipke szerelmese vagyok, ráadásul ez a rózsaszín a kedvenc színem, úgyhogy érthető, miért ez a kedvenc felsőm.♥ ;)
Ez a mintás nadrág (Zara) magáért beszél – nem lehet nem imádni. Feltűnő a mintázata, ráadásul a legtöbb ruhám ilyen szürke/rózsaszín/fekete, úgyhogy könnyedén tudom variálni egyszínű felsőkkel.♥
Szegecses bőr short (H&M) – a szegecs a csipke után a 2. nagy kedvencem.♥
És a már jól ismert szürke blézerem (H&M), még ősszel vettem. Nagyon praktikus, sok mindenhez fel lehet venni a színe miatt. A fazonja is nagy divat idén.
My favourite clothes are:
this powder pink lace top (H&M), these Zara pants, a grey blaser and these leather studded shorts.♥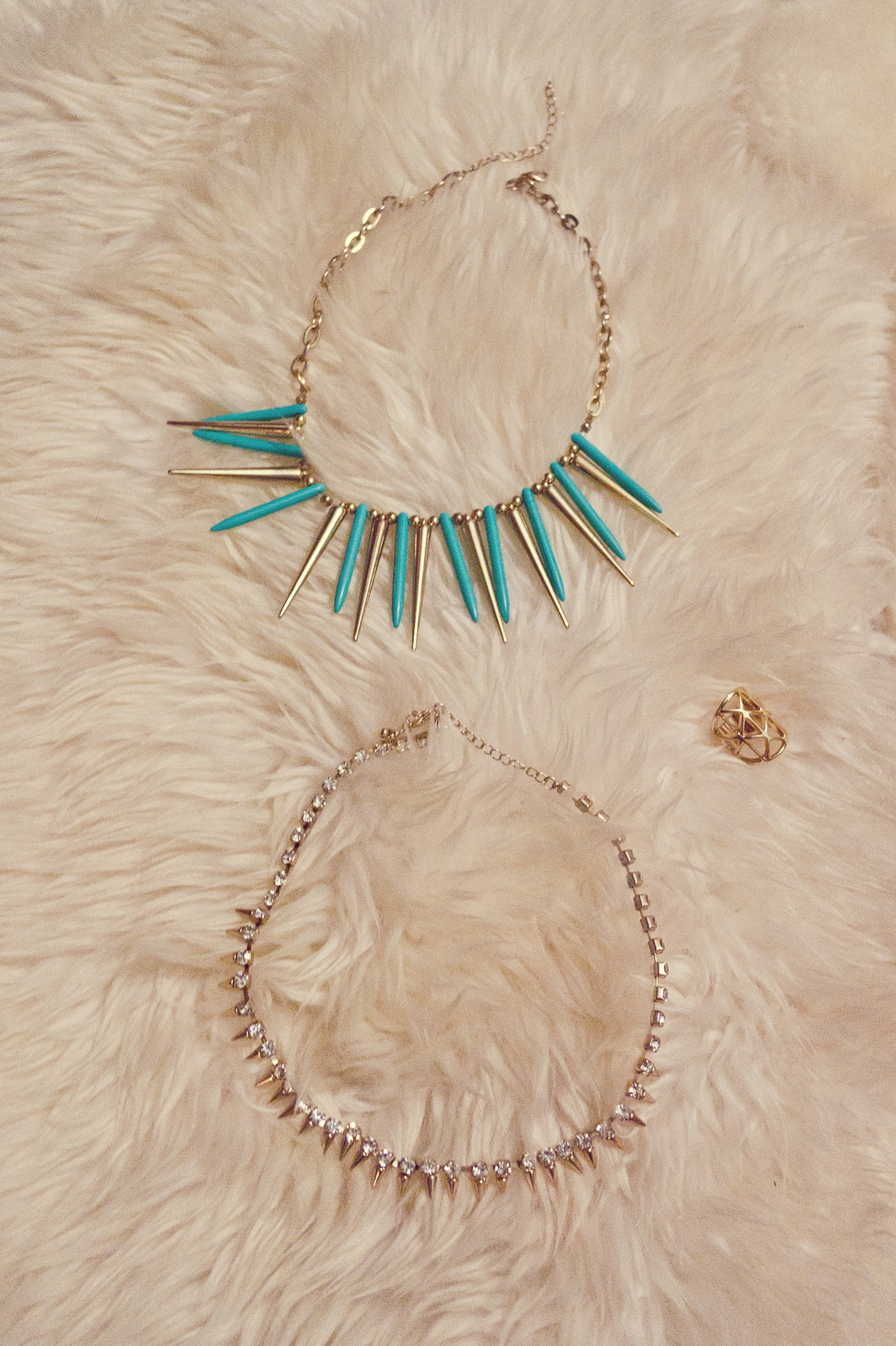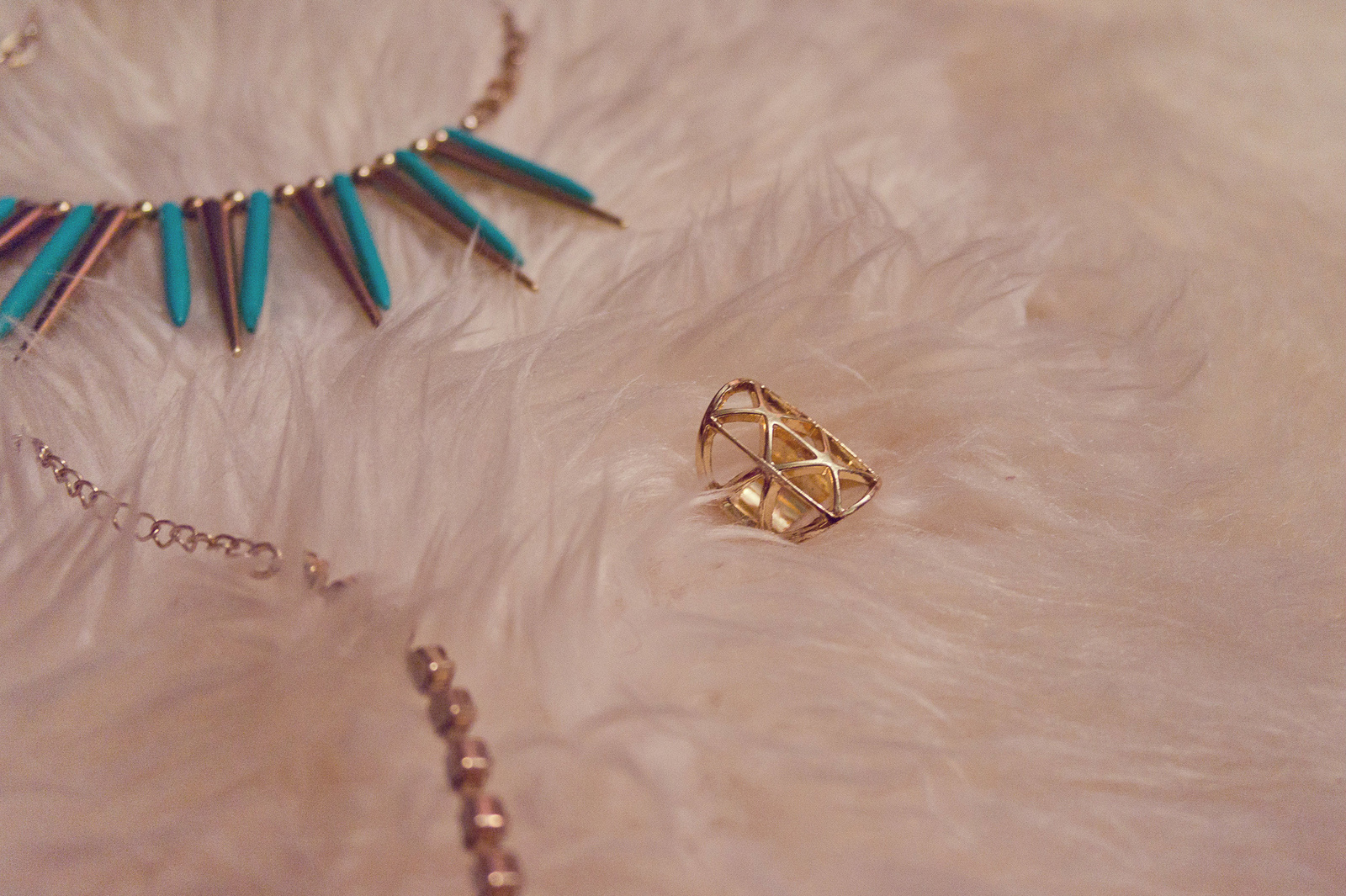 És persze az ékszerek sem maradhattak ki. Régebben jobban szerettem az ezüstöt, mint az aranyat, de ebből is látszik, mennyit változik egy ember ízlése 1-2 év alatt…
Türkiz-arany nyaklánc: I am, Berlinből♥
Arany-szegecses-kristályos nyaklánc: H&M♥
Arany gyűrű: H&M♥
I loved silver more than gold a few years later, but now I prefer gold.♥ :) My favourite jewellery: turquoise-golden necklace  from Berlin: 'I am', golden necklace from H&M and golden ring from H&M, too.
XOXO