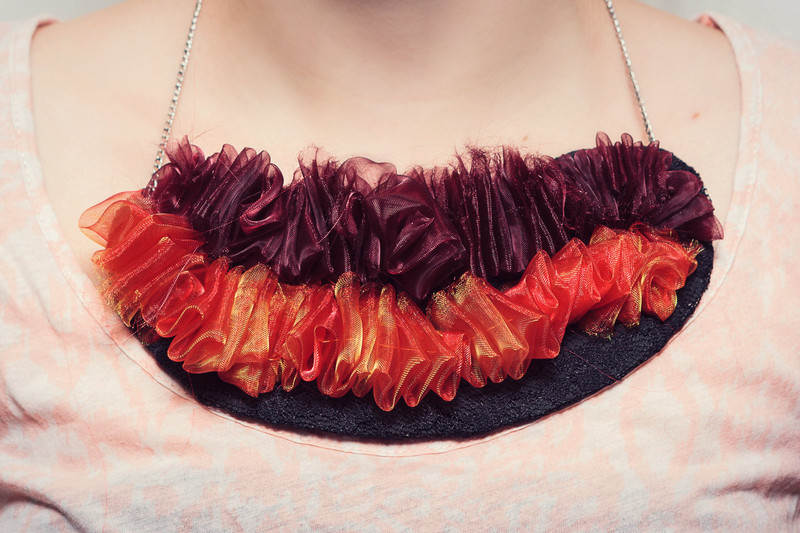 You asked me to do a DIY necklace so I decided to fulfil your request . :)
Actually this necklace is also inspired by fire so I take it as an item of the collection (my summer collection, called 'Fire').
It was fun to make it, well, sometimes I was really nervous (when my hand was full of glue and I couldn't wash it – finally I used nail polish remover but then my black nail polish was removed… arghh whatever.) but I'm pretty proud of the outcome.
Now I show you how you can do if yourself at home!
Kértétek, hogy csináljak egy nyakláncos DIY-t, úgyhogy ma délután úgy döntöttem, eleget teszek a kéréseteknek. :)
Igazából ezt a nyakláncot is a tűz inspirálta, így a nyári 'Fire' kollekcióm kiegészítő darabjának tekintem (ez lesz a dísze az egyik ruhának).
Ebben a bejegyzésben megmutatom nektek, hogyan készíthetitek el otthon!
What you need / Hozzávalók: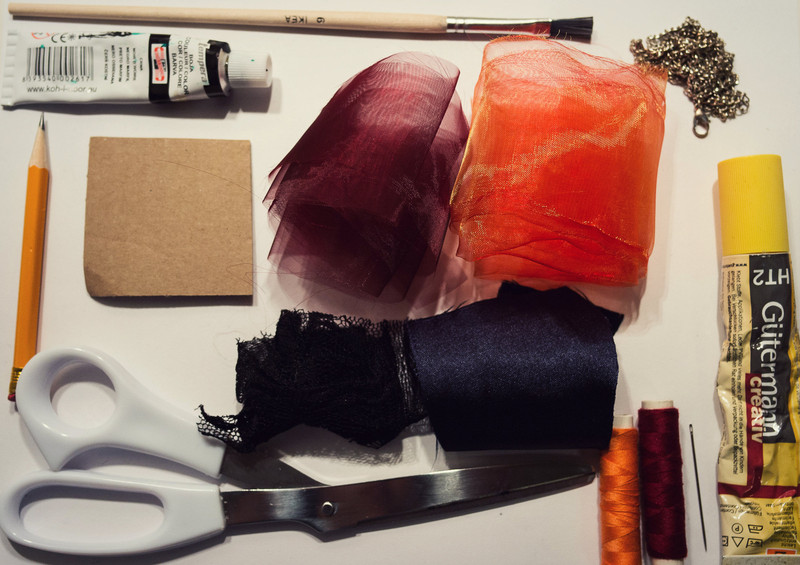 – 2 organsa ribbons (mine are burgundy and orange) / kétféle organza szalag
– black lace / fekete csipke
– scissors / olló
– thread and pin /cérna és tű
– textil glue /textilragasztó
– black paint and brush / fekete festék és ecset
– chain /lánc
– cardboard / karton
– pencil /ceruza
1. Draw a cool shape and cut it from the cardboard! Then paint it black (if it's not already black).
Rajzold meg az alapot, majd vágd ki kartonból! A kivágott formát fesd le fekete festékkel.

2. Cover it with black lace!
Borítsd be fekete csipkével! Hajtsd a hátoldalára a 'fölösleget', és textilragasztóval erősítsd oda (nekem ezen a ponton lett tiszta ragasztó az ujjam…).

3. Grab a long organsa ribbon and sew it up and down loosely, then pull the thread to make it look like this:
Az organza csíkot öltögesd végig (le-föl öltésekkel, nem kell olyan pontosnak lennie), majd húzd össze, hogy így nézzen ki:

4. Then make another ribbon with another color of organsa. Fix the two ribbons to the base (you can do it with glue, I sewed it).
Készíts egy újabb csíkot, most egy másik színű organzából (én narancssárgából csináltam). Erősítsd rá a két csíkot az alapra (használhatsz hozzá ragasztót is, én rávarrtam).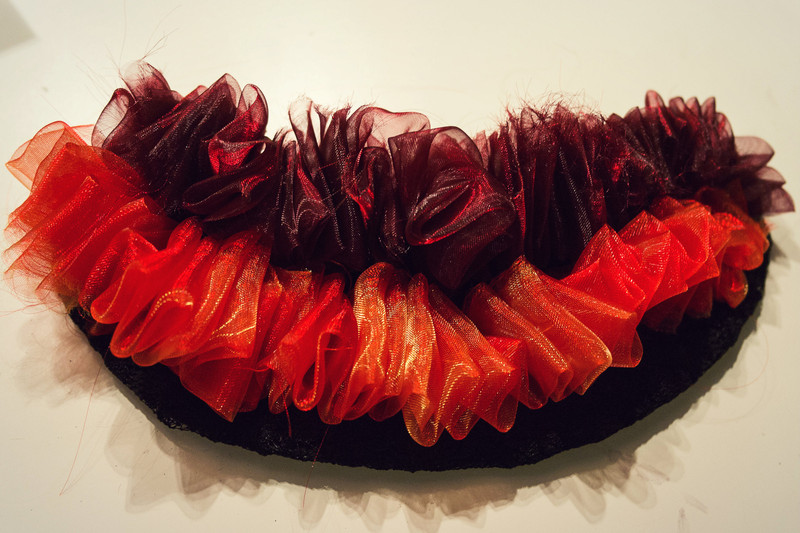 5. Make two holes on the edges and fix the chain to them! Ta-daa! :)
Vágj ki két lyukat a nyaklánc két szélén, majd fűzz bele egy láncot! Tádáám! :)
XOXO