My favorite actress is Emma Watson! She is my role model since I saw the 1st Harry Potter movie. I'm totally in love with her style, and I think her personality is nice too. :)
Yesterday I went to the cinema with my BF (Veve) to watch The Bling Ring! Emma acts really great in it and the other actors and actresses are so cool too! The movie is about a Californian group of teenagers who robbed some star's wardrobe (like Paris Hilton, Megan Fox, Rachel Bilson…). It was very exciting so we enjoyed it a lot!
Teen Vogue's August issues' cover star is no other than EMMA WATSON! I was so happy when I saw it! She looks beautiful on the cover and in the pictures. One of them inspired my outfit (this one). I didn't want to copy the entire look. This 80's style caught me with the skater skirt and loose sweater: so I was wearing my LBD as a skirt with a pale pink sweater.
I decided to make the same hairstyle and I asked my mom to help me. Yeah. She started to backcomb my hair and I looked like a skunk. :) Finally somehow we did this hair – well, it doesn't look like Emma's but I love it.
To pimp up my outfit with something that is absolutely my style I put on my dotted socks with the boots.
***
Emma Watson a kedvenc színésznőm és példaképem, mióta az első Harry Potter filmet megnéztem. Imádom a stílusát, a személyiségét, gondolkodásmódját.
Tegnap a legjobb barátnőmmel (Vevével) elmentünk moziba, megnézni a Sofia Coppola által rendezett 'The Bling Ring' című filmet – Emma Watson főszereplésével. Nagyon jól játszott benne, de a többi színész is remek volt! A film Kaliforniában játszódik, ahol egy csapatnyi tinédzser sztárok házaiba törnek be, és kipakolják a gardróbjukat (áldozataik olyan emberek, mint pl Paris Hilton, Megan Fox, Rachel Bilson…). Izgalmas film volt, nagyon tetszett! :)
A Teen Vogue címlapjára Emma Watson került idén augusztusban. Amikor megláttam, nagyon megörültem! Gyönyörű képek készültek róla, ezt az outfitet is az egyik ilyen fotón viselt szettje ihlette (ez). Nem akartam lemásolni az egész összeállítását, csak ezt a '80-as évek stílust hoztam, 'skater skirttel' és bő pulcsival. A Little Black Dress-emet vettem fel szoknyaként, fölé egy rózsaszín bő pulóvert húztam (nem volt kifejezetten nyárias időnk mostanában…).
Kitaláltam, hogy megcsinálom azt a frizurát, amit Emmán is láthattunk a képeken. Megkértem anyát, hogy segítsen benne… A vége az lett, hogy annyit tupírozta a hajam (?) hogy úgy néztem ki mint egy borz. Úgyhogy kicsit korrigáltunk utána. :D Az eredmény ugyan nem lett annyira Emma Watsonos, de tetszik. :)
Hogy egy kicsit hozzátegyek még az outfithez valamit az én stílusomból, a pöttyös zoknimat vettem fel.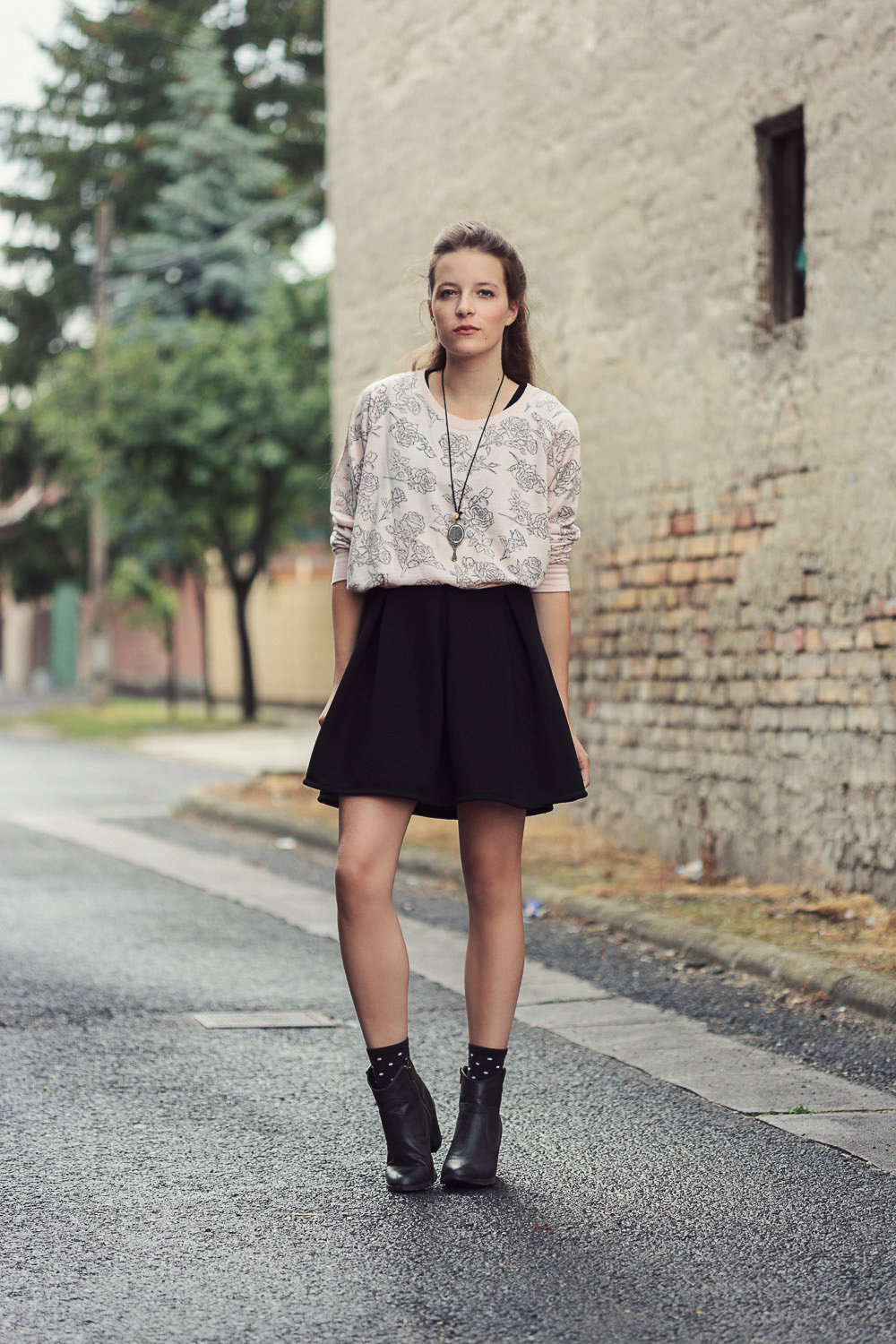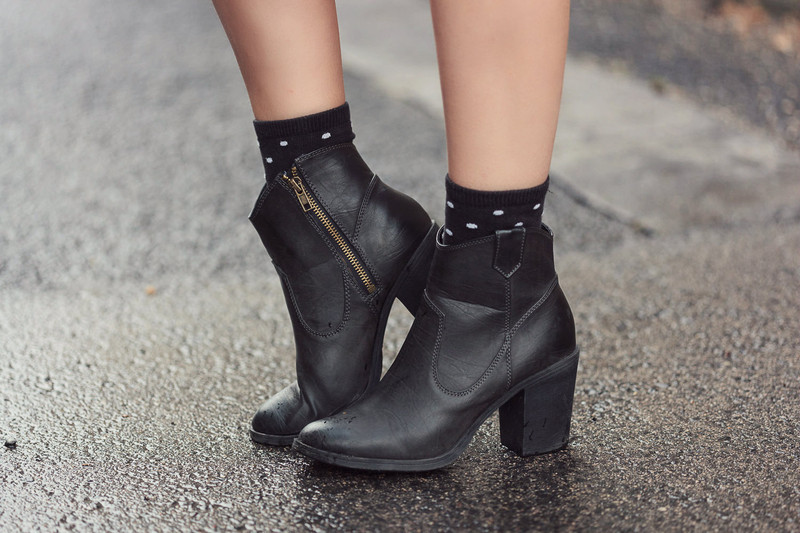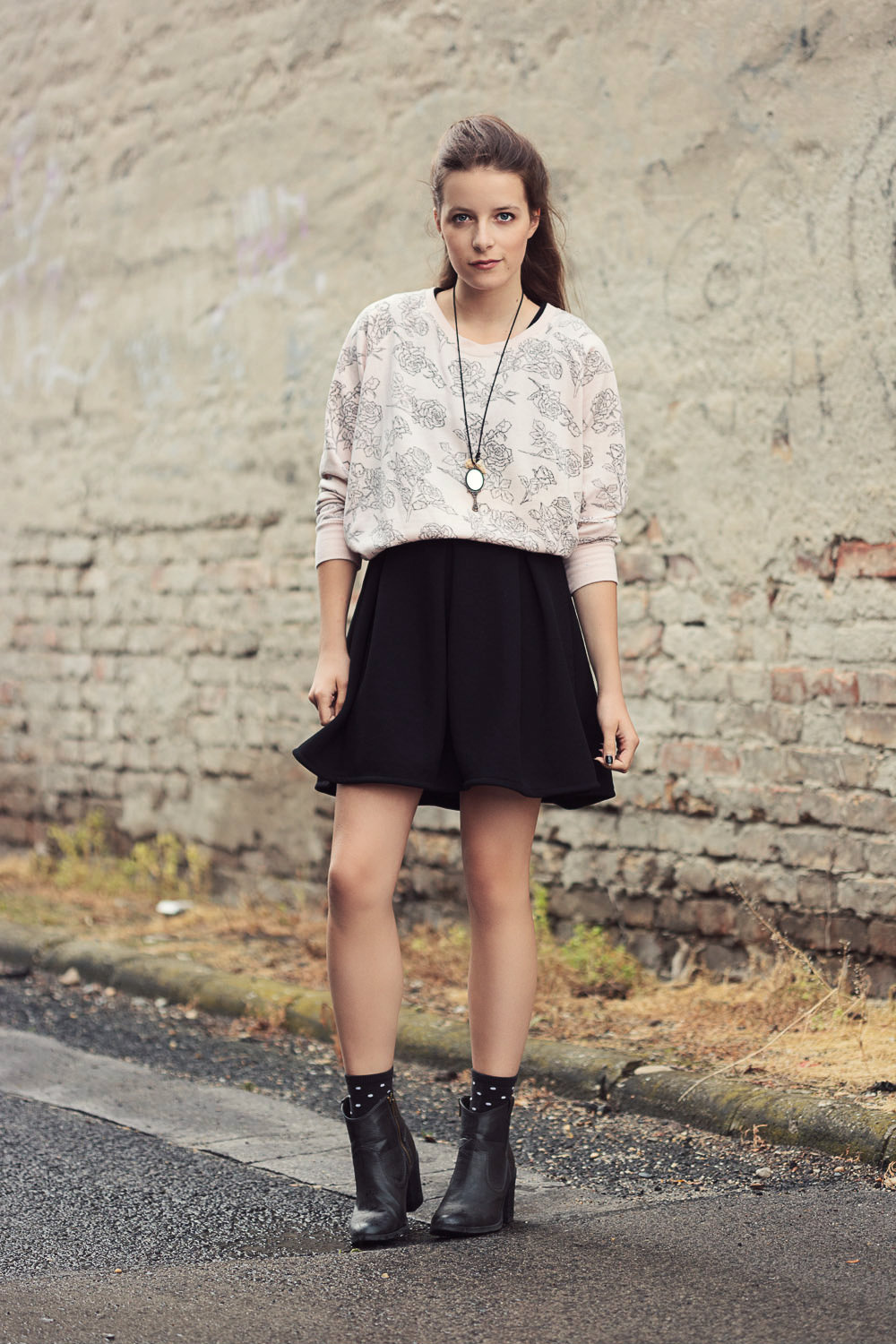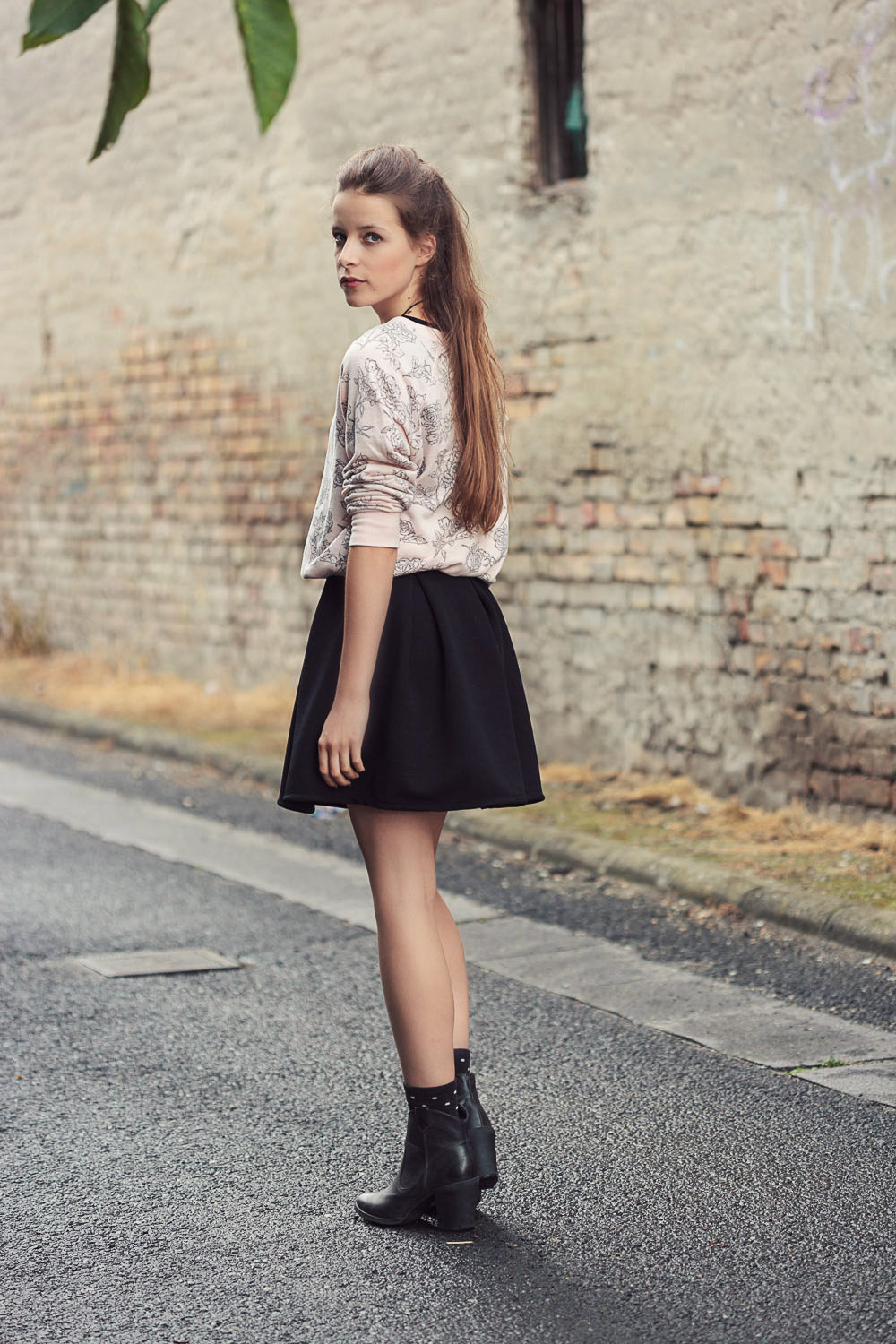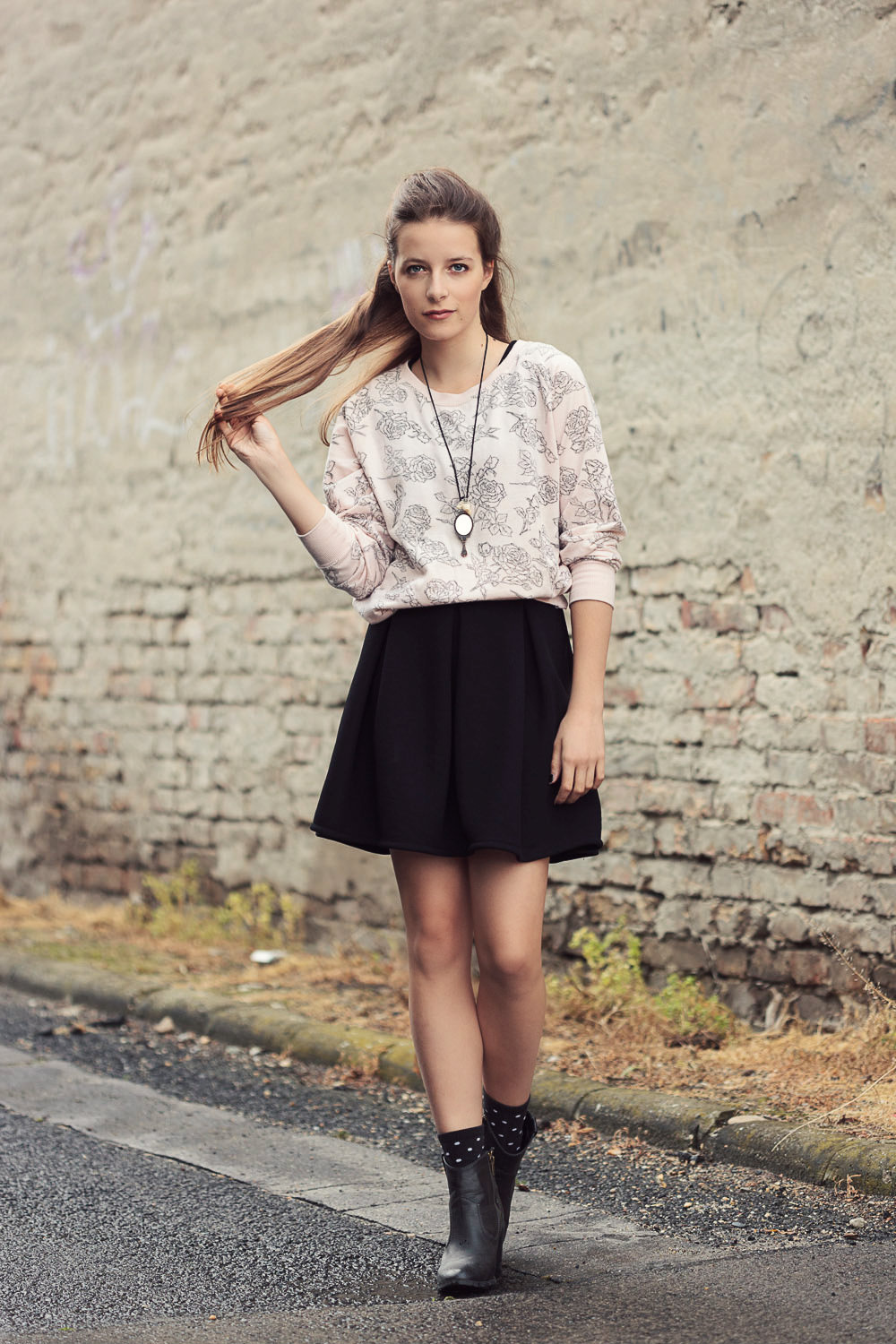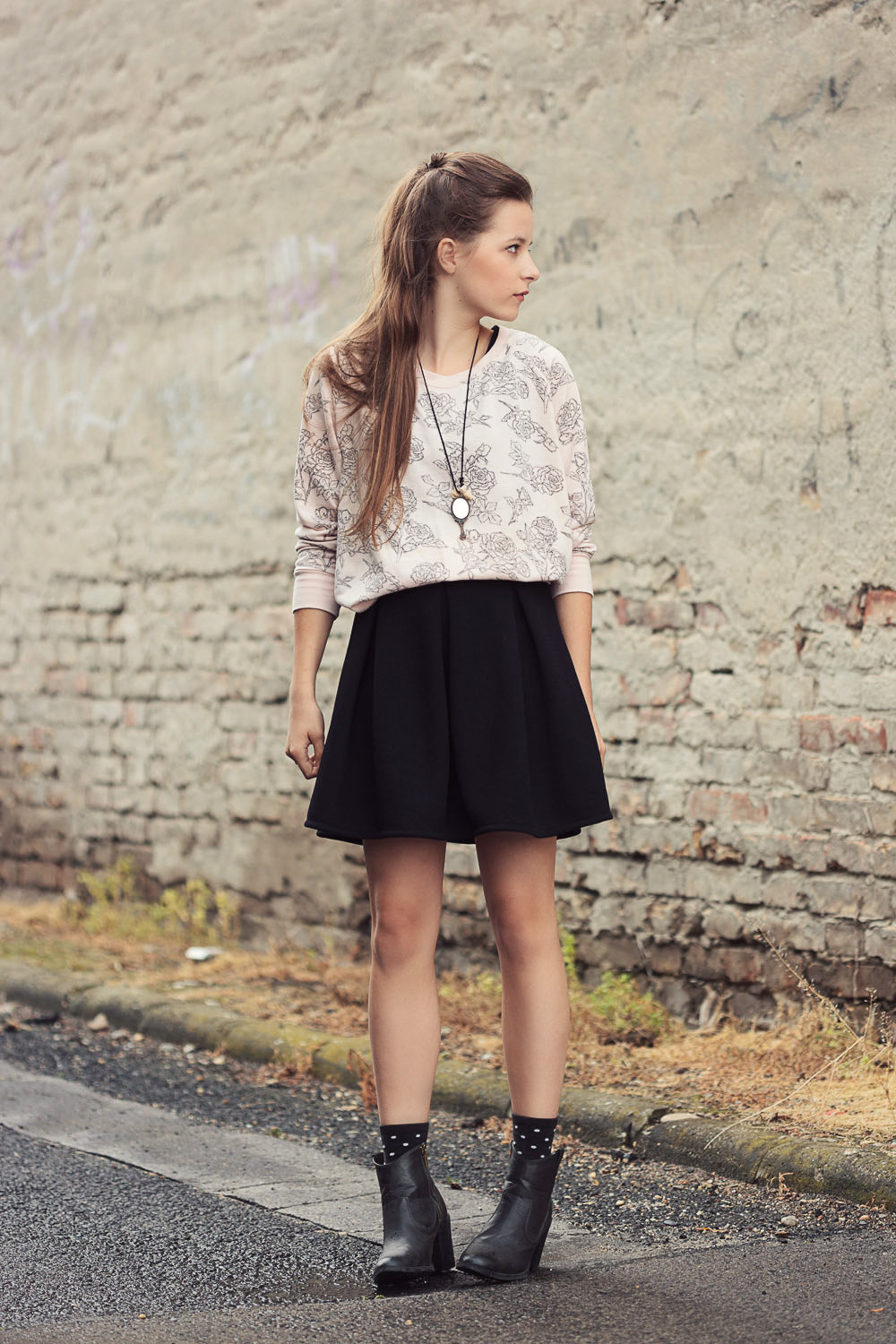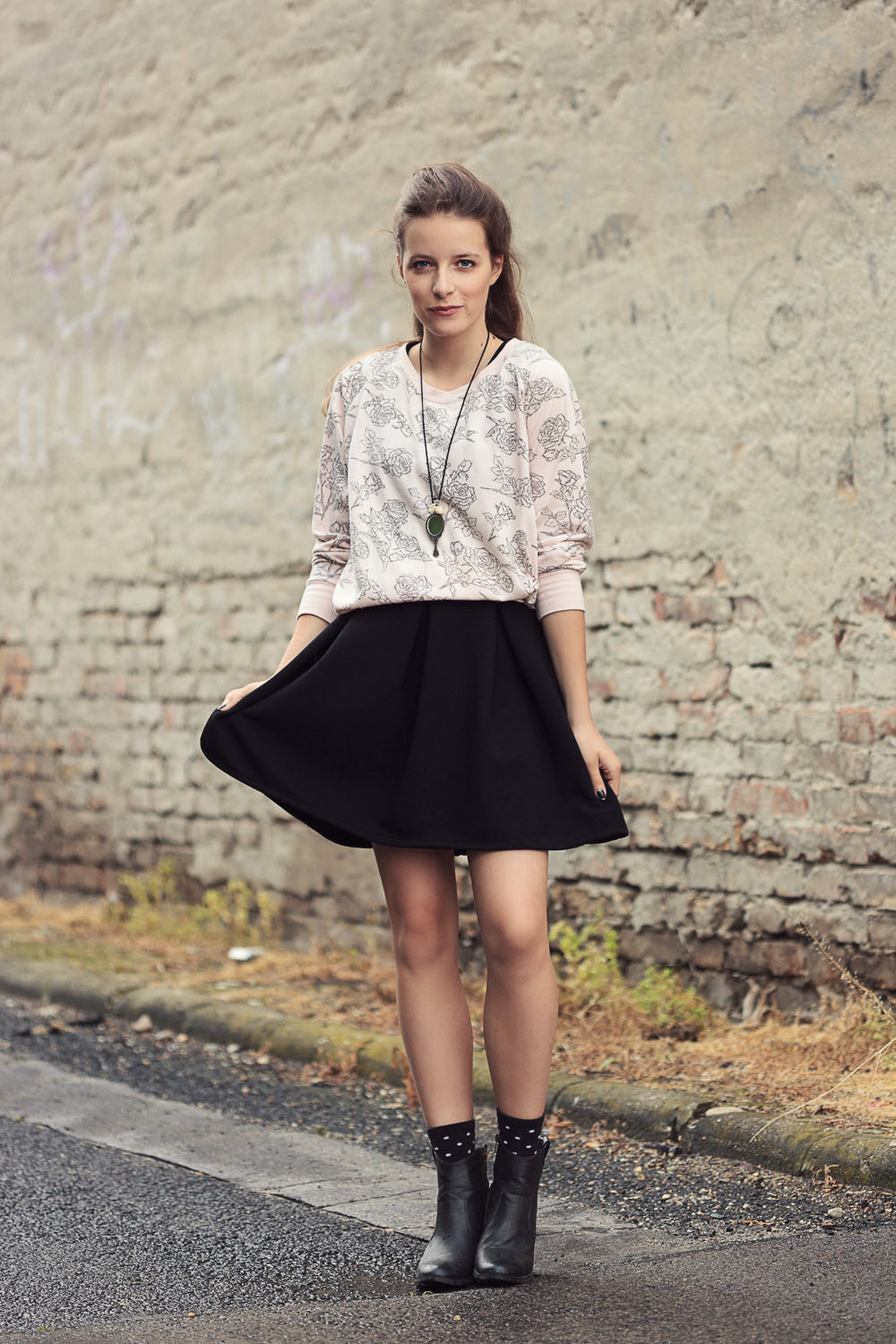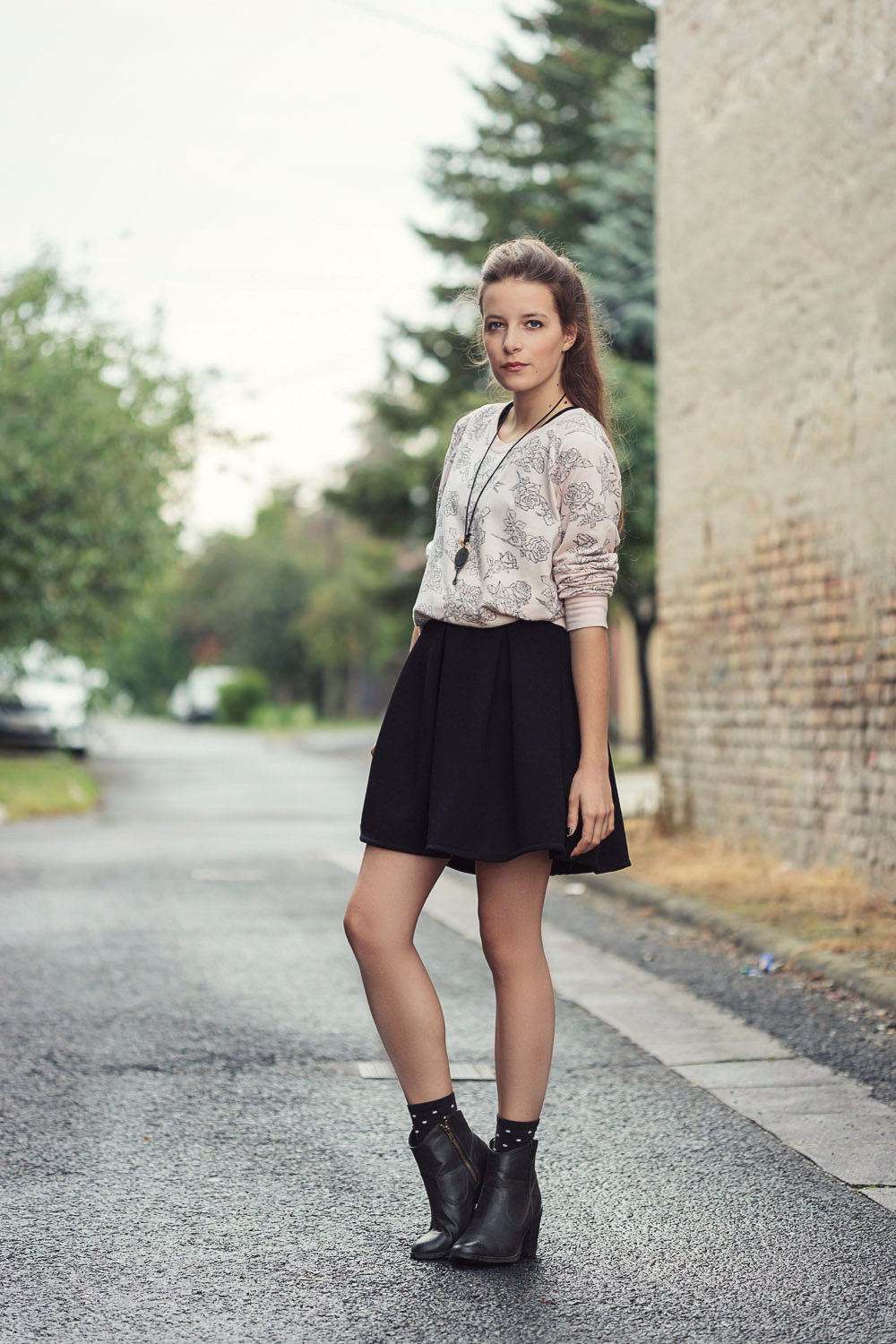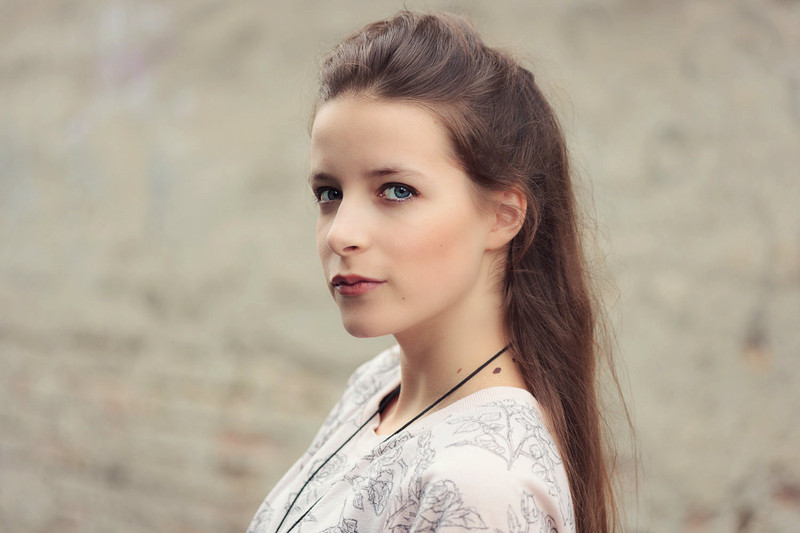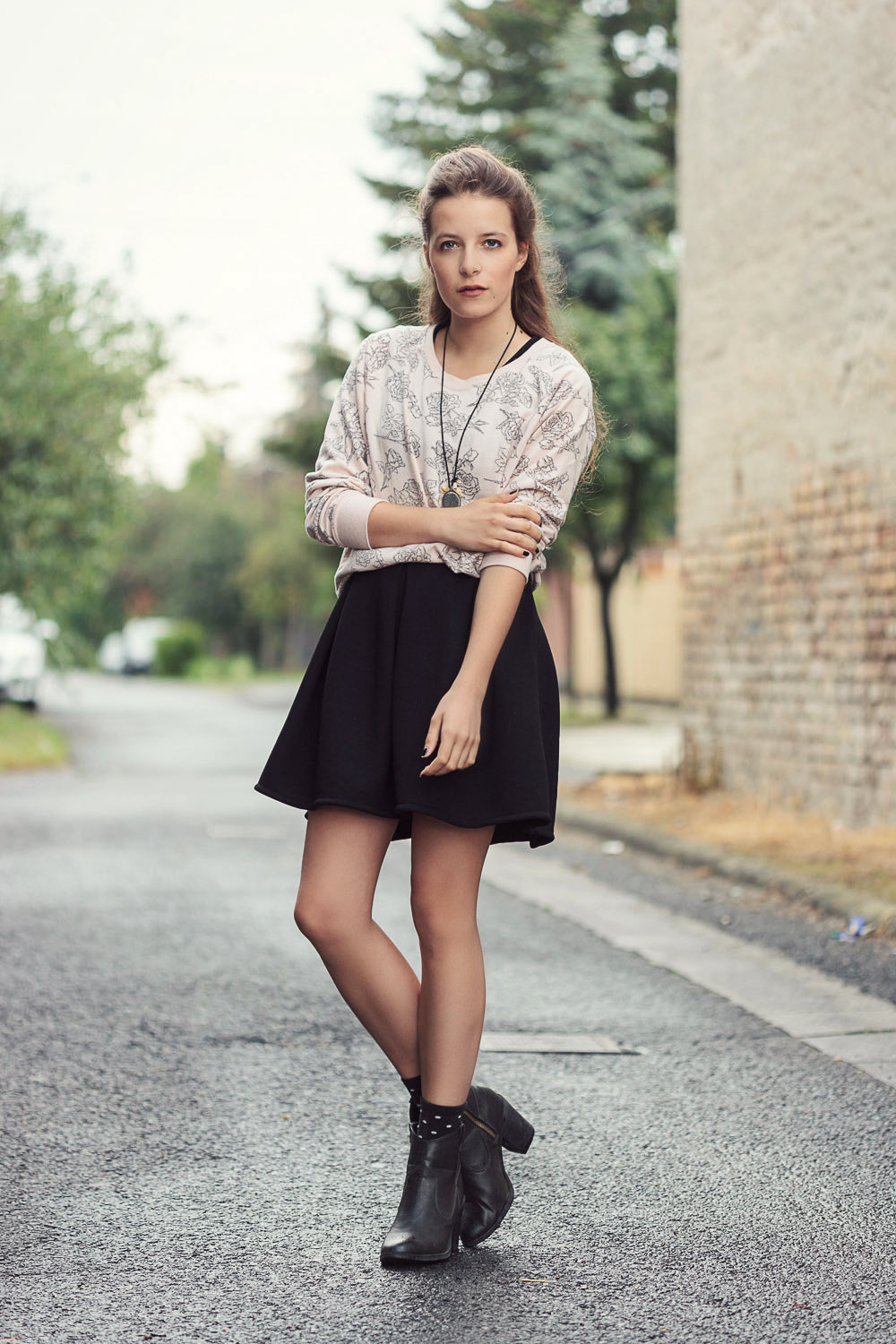 sweater: Next / skater skirt (dress): Springfield / boots: H&M / socks: H&M / necklace: Six